Hazardous Location Air Heater Controls & Accessories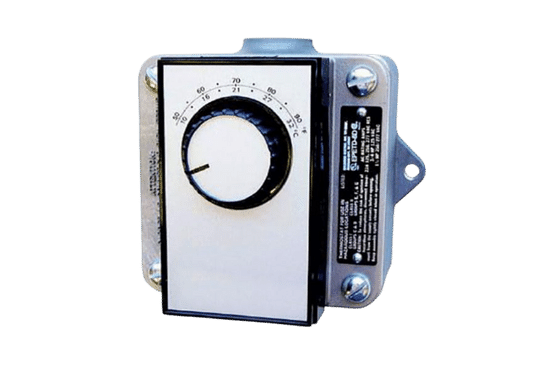 Durable Design
Long service life in hostile environments
Global Support
Support and spares available around the world
Hazardous Location Air Heater Controls & Accessories
Chromalox offers multiple control accessories for our hazardous location and corrosion resistant air heaters.

EPETD-8D Explosion Proof Room Thermostat
The EPETD-8D Thermostat is designed to control heating, cooling, heating and cooling or ventilation systems in commercial or industrial applications that are located in hazardous areas.

Applicable industries include oil & gas, petrochemical, power generation, food & beverage, waste water, mining, agriculture, general industrial and the life sciences including lab/ analytical and medical.

The EPETD-8D is suitable for challenging environments found in grain elevators, munition plants, hospital operating rooms, fueling depots as well as any hazardous area with comfort-air needs.

This thermostat has a snap action, double pole-double throw switch operated by a bimetal actuator and is offered with an adjustable, dual temperature scale knob with positive off.

No leveling is required during installation. The case is conveniently equipped with top and bottom 3/4"NPT taps, a 1/2" x 3/4" adapter and a 3/4"NPT plug.

The EPETD-8D is UL/cUL Listed for Class I, Groups C & D, Class II, Groups E, F & G and carries a NEMA7/Div 1 enclosure rating.

B121 Explosion Proof Thermostat
Maintaining proper viscosity and flow is critical in heat trace or freeze protection applications. The E100 remote mount thermostats utilize a stainless steel bulb and capillary design to accurately sense temperature at key points along a pipe. The B100 direct mount thermostats feature liquid-filled thermal assemblies and sense air temperatures from 15 to 140°F. Both models are epoxy coated to seal from moisture and contaminants in compliance with NEMA 4X requirements. NEMA 7 stats E121/122/122P and B121 are designed for Class I, Division I and 2, Groups B, C, D, and Class 2, Division I and 2, Group E, F, G.
Request a Quote
From high temperature gas heating to superheated steam and super-critical water processing, Chromalox is the leading partner for all process heating solutions.