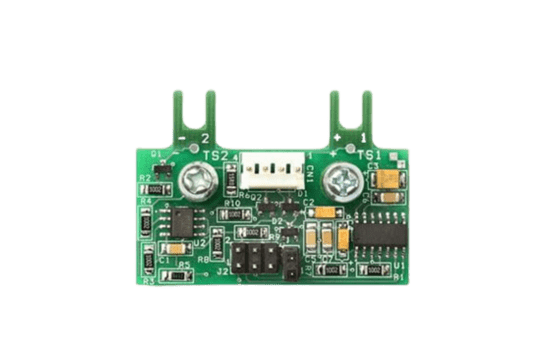 Quick Install
Designed for faster installation to reduce your labor time
Standard SSR Accessories
Specially designed accessories are available for both power PAC SCR's and the SSR Series products.

LM-2 - Solid State Relay Driver for SSR Series
The LM-2 (0135-28144) module accepts a 4 - 20 mA control signal and converts it to a 4.5 - 32 VDC time proportional control signal. Power supply is not required. The LM-2 is powered by the 4 - 20 mA loop. The LM-2 Module supports single and three-phase 2-leg power control configurations.

The LM-2 module mounts directly to the input terminals labeled A2(-) and A1(+) of the solid state relay. Screw terminals are provided on the LM-2 module for the 4 - 20 mA control signal. The solid state relay's load is connected to terminals L1 and T1.

Once the connections are made the LM-2 module and solid state relays provide a time proportional zero-fired control signal to the load.
Vari-Watt - Multiple SSR/SCR Power Control Driver
The NEW Vari-watt Power controller accepts a control signal input and produces output signals that can drive up to 4 Zero-Crossover Solid State Relays or a Contactor. The signal to the solid state relays implements Chromalox DOT firing which allows for switching as ac-curate as every 3 cycles (50msec). In addition, the 4 outputs evenly distribute power using the Vari-Watt's Load Management Feature.

Select from 3 analog control inputs of 4-20ma, 0-5 VDC or 0-10 VDC to drive up to 4 SSRs. The SSR's will fire in succession and evenly distribute the power draw via the Vari-watt's Load Management Feature.

The Vari-Watt can accept a digital input of a 4-12 VDC 1 sec time proportion signal from a controller, and convert it to a 15sec cycle time 240 VAC output for a contactor or a distributed output with Load Management to up to 4 SSR's. Auto/Manual Control – A jumper or contact closure allows the user to select between Manual Control using the 1K Pot or Auto Control using either the 4-20ma, 0-5 VDC or 0-10 VDC control inputs.
Request a Quote
Every heating challenge is unique. Chromalox offers the industry's most comprehensive offering of component heaters and controls. Our experienced engineers will work with you to provide a complete thermal solution for your unique application.