CTS - Commercial Heat Trace Electronic Thermostats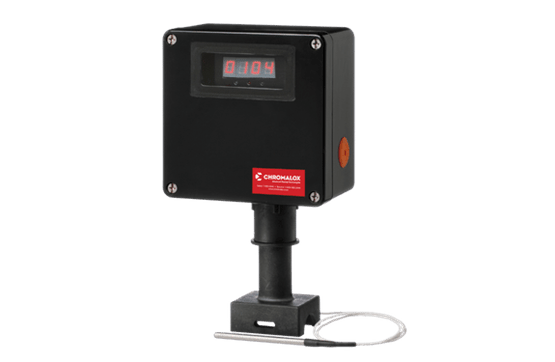 Energy Efficient
Optimized for efficiency gains across your processes
About the Product
The CTS electronic thermostat is a microprocessor based temperature control and power connection kit. It is used for freeze protection or process temperature maintenance of pipes or tanks protected by heat tracing products. This thermostat can be used with CZH, CMi or CPR heating cables in Ordinary area locations.

The CTS provides easy programming of the temperature set point, high and low temperature alarms, the deadband, the temperature units, the soft start function and the alarm state through the front panel push buttons. LED lights are provided for indication of power to the unit, heater power on (load) and alarm status. A Fail Safe solid state alarm is included for wiring to your building management system to indicate alarm status. This alarm may be set to open or close on all alarm conditions including loss of power, high or low temperature alarm and RTD failure. Choose either the DC or the AC customer supplied voltage alarm variation. The minimum operating ambient temperature is -40°F (-40°C). This unit has programmable high and low temperature alarm set points from -80°F (-62°C) to 1150°F (621°C).

The CTS employs a Soft Start feature that uses a proprietary software algorithm which reduces the inherent self-regulating in-rush current, resulting in less nuisance tripping at cold temperatures. For added flexibility, the user may disable the soft start feature.

A 100 Ohm platinum RTD is provided with a 3 foot (1 M) lead resulting in flexible mounting options for the user.
CTS - Commercial Heat Trace Electronic Thermostats
+ User Selectable Soft-Start Program
+ Small Enclosure. The 6.25 inch by 6.25 inch enclosure houses the temperature control and monitoring unit along with terminals for connecting instrument power, heating cable and RTD.
+ 100 Ohm platinum RTD which can be pipe mounted or can be used to sense ambient air temperature.
+ Pipe stand-off mount for direct pipe mounting.
+ Integral wiring. The wiring of the heating cable, alarm, AC power line and the RTD sensor are all accomplished within the enclosure. This feature reduces both labor and material costs by eliminating the need for an additional heat trace power connection kit as well as the time for the additional wiring.
Applications
+ Freeze Protection of Piping
+ Hot Water Temperature Maintenance
+ Tank Freeze Protection
+ Grease Waste Flow Maintenance
Environments
+ Ordinary Areas
+ C1, D2
Sensors
+ 100 OHM PT RTD
+ Probe Length = 4" (10.2 cm)
+ Probe Diameter = 1/4" (6.35 mm)
+ Leadwire Length = 3ft (1 M)*
* The maximum allowable length of the RTD wire is 50ft (15m) in order to remain UL/cUL compliant.
Current Approvals
+ UL, cUL Listed for Ordinary Areas
Commercial Heat Trace Electronic Thermostat
+ 30 Amp Solid State Relay (SSR) Output
+ 120 to 277 Vac Operation
+ cULus Ordinary Area and C1D2 Approval
+ On/Off Control with 100˚ Deadband Programmable in One Degree Increments
+ Selectable Soft-Start Feature
+ LED Indication for Power, Alarm and Load
+ Large LED Display
+ Programmable High & Low Temperature Alarms
+ Solid State Alarm for Remote Indication of Alarm Status
+ - AC Alarm: CTS
+ - DC Alarm: CTS-DC
+ NEMA 4X Enclosure
+ Integral Pipe Stand or Optional Wall Mount
+ 100 Ohm 3ft Platinum RTD - Included
+ Enclosure Serves as Heating Cable, A/C Power & Sensor Connection
+ Works with CPR, CZH and CMi Cable
+ RoHS Compliant
+ Third Party Approvals: UL, cUL Listed
Request a Quote
Chromalox heat trace solutions offer a safe, reliable and efficient way for freeze protection and process maintenance of pipes, valves, and tanks in the most extreme conditions.