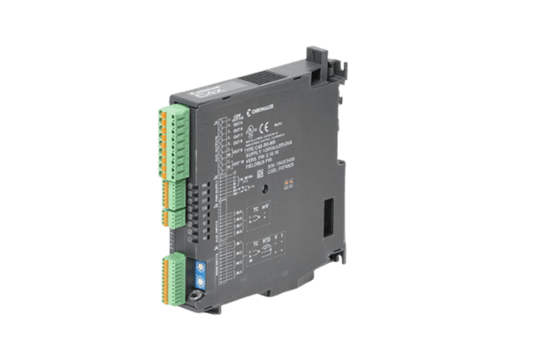 Reduce Costs
Technology designed to reduce total cost of ownership
Quick Install
Designed for faster installation to reduce your labor time
Multi-loop Controllers
Chromalox multi-loop temperature controls offer up to eight zones of control in an affordable package. They're available with autotuning, heater break alarms and MODBUS communications. Packed with easy-to-use features, these controllers are ideal for reducing operating costs.
3340 & 3380 - Multi-loop Controller
The 3340/3380 can control up to a maximum of 8 channels in a compact 1/4 DIN package. The 1/4 DIN controller reduces panel size and panel cutouts. By increasing zone density, the 3340/3380 can now make PID temperature control for 3 to 8 zones affordable in a multi-loop form factor, aiding designers of control equipment to save labor costs, installation costs, electric panel size, and operation cost.

In comparison to other multi-loop packages, the 3340/3380 has a straight forward user interface that does not require a PLC programmer or other support hardware to operate. The display, pushbuttons, outputs and software are integrated in this single multi-loop package.

Although all inputs are scanned at least once per second, the display of the 3340/3380 will display the temperatures of each channel on an adjustable scan rate so the operator can view all channels without touching any pushbuttons.

Heater Break Alarm: Alarm 2 can be ordered as a Heater Break Alarm. For loads with multiple heaters this feature alarms when individual heaters fail. This provides maintenance of a process before the problem becomes critical.

Multi-Memory Area: Temperature set point, PID constants, alarm set point, ramp to set point rate, channel used/unused for each loop can be stored in a "memory area". The eight memory area allows for quick changes to alternate processes or products. The memory area can be selected via the front faceplate or digital inputs.
C4X Advanced - Multi-Loop PID Controller
The C4X Multiple Zone PID Controller is the brains of the C4 controller, but with the capability to drive even larger loads. The controller features four universal main process inputs, two digital inputs, and two configurable relay alarm outputs as standard, so you get the same benefits as the C4 when greater loads are required. When even more flexibility is required, the C4X controller can be customized with four analog inputs, and up to four configurable outputs. The C4X boasts an extremely slim 1" wide footprint capable of either DIN rail mounting or direct panel mount, making it ideal for minimizing space.

With a default Modbus RTU/RS485 communications port and option for second port from a variety of different communication protocols including Modbus TCP, Profibus, ProfiNet, Real Time Ethernet (Ethernet IP), DeviceNet, EtherCat, and CANopen, the C4X can be fully integrated into any host PLC network or DCS. Like the C4, the fieldbus card can be installed at the time of order, or field installed at any time.



C4-OP Programming Interface
The C4-OP local interface display is a great tool to use when remote programming or monitoring isn't enough. It is comprised of a Lexan membrane, IP65 display, including three 4-digit displays, and a 2-digit display. A total of 6 function keys allow navigation through the C4- OP software menus and adjustment of process parameters on the spot.

Its built-in memory gives users the ability to save complete configurations for up to ten C4 family devices, which can then be uploaded to a PC for seamless integration with the C-PWR software. The opposite is also true if users prefer to download C-PWR settings on to the C4-OP, making this controller an ideal addition for routine plant maintenance where local programming and monitoring is necessary.

With no external power requirements, the C4- OP is powered directly from the C4 host device and can either be DIN rail mounted, or installed directly on the front panel of the enclosure where permanent installations are required. With its minimal footprint, the C4-OP continues the compact trend of the C4 family.


Complete Process Control
The C-PWR Configuration Software permits efficient programming of the following Chromalox SCR power controllers: CTF, CTF-Xtra, C4, C4-IR, CFW, and CFW-Xtra. It will facilitate the cloning of multiple controllers and fast parameter file uploads and downloads to and from the controller and PC.

Parameter value settings may be entered via the master table or through the Setup Wizard which methodically walks you through the main screens. Use the C-PWR Configuration Software Manual for program installation and connection details. To program your specific SCR controller, use the appropriate controller programming manual.

Current Release Version: 1.1.0
(Note: New configuration software releases occur without notice. If you need to update your release, you must first uninstall your current version prior to installing the latest release. This may be done in Programs and Features located in the Windows Control Panel.)
Request a Quote
Every heating challenge is unique. Chromalox offers the industry's most comprehensive offering of component heaters and controls. Our experienced engineers will work with you to provide a complete thermal solution for your unique application.