CPR - Commercial Self-Regulating Heat Trace Heating Cables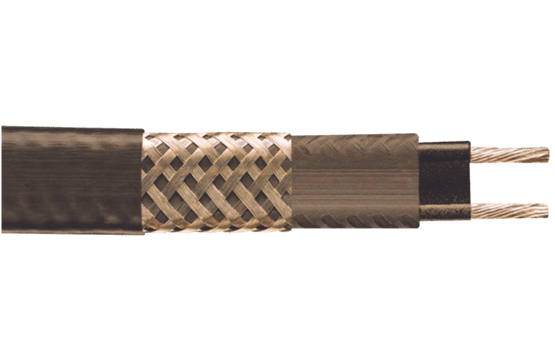 Self-Regulating
Over temperature conditions are minimized
Quick Install
Designed for faster installation to reduce your labor time
Energy Efficient
Optimized for efficiency gains across your processes
About the Product
Chromalox CPR Cable is a multi-purpose heating cable designed for commercial pipe tracing, roof & gutter deicing, embedded floor warming, and frost heave prevention. Chromalox's CPR Cable is constructed of a self-regulating polymer core that varies its heat output based on sensed temperature along its entire length. It can be easily cut to length, spliced, tee to more easily follow piping networks. In addition to insulated surfaces, Chromalox's CPR Heating Cable can be used on roofs and in gutters to prevent Ice Dams and provide a path for the melt water to excavate the roof surface.

Chromalox's CPR Heating Cable can be placed in conduit and embedded in concrete to prevent frost heave or placed onto concrete slabs for supplemental comfort heat. Chromalox's CPR cable can even be placed inside of conduit for applications making replacement of the heating cable possible. Chromalox's CPR is truly a versatile heating cable solution.

WARNING — A ground fault protection device is required by NEC to minimize the danger of fire if the heating cable is damaged or improperly installed. A minimum trip level of 30mA is recommended to minimize nuisance tripping.
CPR - Commercial Self-Regulating Heat Trace
+ Self-Regulating, Energy Efficient
+ Process Temperature Maintenance to 150˚F (65˚C) (Power On)
+ Max. Continuous Exposure Temp. 185°F (65˚C) (Power Off)
+ CPR Commercial Applications
+ Pipe Freeze Protection
- Potable & Non-Potable Piping
- Sanitary & Storm Piping
- Fire Sprinkler Piping
+ Flow Maintenance
- Greasy Waste Piping
- Diesel Fuel Piping
+ Roof & Gutter De-icing
+ Freezer Frost Heave Prevention
+ Floor Warming
+ TPR or TPE Overjackets
+ Circuit Lengths, Up to 660 Ft.
+ 3, 5, 8, 10 and 15 W/Ft.
+ 120, 208 - 277 Volt From Stock
+ Approximate Size 3/8"W x 1/8"H
+ Minimum Bend Radius 1-1/8"
+ For Use on Metal Pipes, Plastic Pipes, Roofs, and Gutters
+ Third-party certifications: UL Recognized, cCSAus
+ Energy efficient, self-regulating CPR uses less energy when less heat is required.
+ Easy to install, CPR can be cut to any length (up to max. circuit length) in the field.
+ Field splices can be performed easily in minutes with no scrap or wasted cold sections.
+ CPR can be overlapped without burnout, which simplifies heat tracing of in-line process equipment such as valves, elbows and pumps.
+ Because CPR is self-regulating, overtemperature conditions are minimized.
+ Chromalox termination, splice, tee and end seal kits reduce installation time.
CPR - Specifications
+ Commercial Heat Trace Spec Sections
+ Heat Trace for Fire Suppression Piping Spec
+ Heat Trace for Process Piping Spec
+ Roof Gutter Deicing System Spec
+ Above Grade Grease Waste Piping Spec
+ Below Grade Grease Waste Piping Spec
Request a Quote
Chromalox heat trace solutions offer a safe, reliable and efficient way for freeze protection and process maintenance of pipes, valves, and tanks in the most extreme conditions.