HWM - Hot-Water Maintenance Heat Trace Heating Cables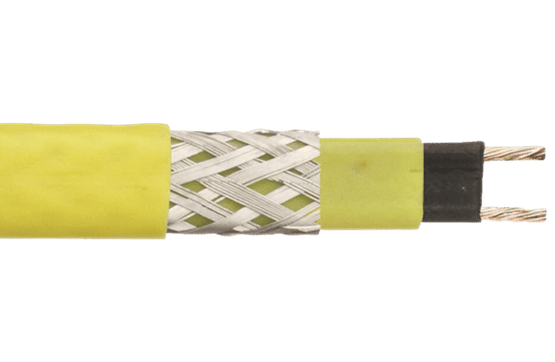 Self-Regulating
Over temperature conditions are minimized
Reduce Costs
Technology designed to reduce total cost of ownership
Energy Efficient
Optimized for efficiency gains across your processes
About the Product
The HWM hot water temperature maintenance system utilizes self-regulating heat trace technology. The system, consisting of the self-regulating cable, connection kits and specialized electronic controls, provides commercial buildings with immediate hot water availability without expensive recirculation systems. It provides a simple, yet energy efficient approach by providing heat at the point where heat loss occurs. Due to the parallel construction of the self-regulating cable, it can be cut to any length, spliced, tee-branched and terminated on site. With this product, energy savings may be derived from multiple sources, such as lower supply line heat loss, eliminated return line heat loss, no pump operating costs and no supply water overheating costs.

WARNING — A ground fault protection device is required by NEC to minimize the danger of fire if the heating cable is damaged or improperly installed. A minimum trip level of 30mA is recommended to minimize nuisance tripping.
HWM - Hot Water Maintenance Heat Trace
+ Energy efficient, self-regulating HWM uses less energy when less heat is required.
+ Easy to install, HWM can be cut to any length (up to max. circuit length) in the field.
+ Field splices can be performed easily in minutes with no scrap or wasted cold sections.
+ HWM can be overlapped without burnout, which simplifies heat tracing of in-line equipment such as valves.
+ Because HWM is self-regulating, over-temperature conditions are minimized.
+ Chromalox termination, splice, tee and end seal kits reduce installation time.
+ FM approved for hot water maintenance applications
+ Hot Water Maintenance for Temperatures up to 140°F
+ Heat Output Varies Along Pipe Length to Deliver Heat Where Needed
+ Circuit Lengths up to 800 ft
+ 16 Awg Buss Wires
+ Self-Regulating Conductive Core
+ Fluoropolymer Jackets
+ Wattages at 5 and 10 w/ft
+ 120 and 208-277 V Cable Available from Stock
Request a Quote
Chromalox heat trace solutions offer a safe, reliable and efficient way for freeze protection and process maintenance of pipes, valves, and tanks in the most extreme conditions.