CTC1/CTC2 - Digital Heat Trace Temperature Controllers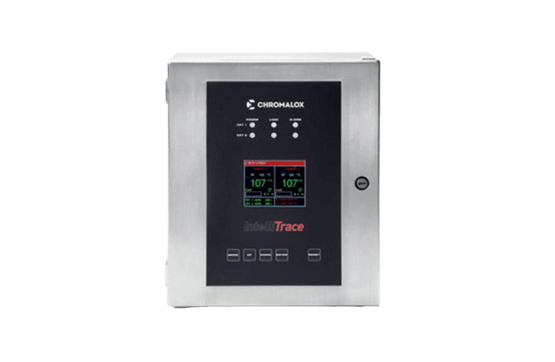 Quick Install
Designed for faster installation to reduce your labor time
About the Product
For nearly a century, customers have relied upon Chromalox for premiere quality and innovative solutions for industrial heating applications. Chromalox manufactures the world's largest and broadest line of electric heat and control products.
The intelliTRACE family of heat tracing products continues to expand with its latest single or two circuit controllers the CTC1 & CTC2. These are a complete temperature control and system management solutions for electrical heat trace applications. They are designed for industrial applications in ordinary or Class I, Division 2. Groups A,B,C & D hazardous locations.
The intelliTRACE CTC1 & CTC2 provides the user with an easy to navigate menu system, continuous critical parameter monitoring, application flexibility and equipment safety precautions.
The CTC is an ideal solution either Freeze Protection or Process Temperature control. Whether you have Ambient or Line Sensing or a combination of both, the CTC is the affordable and complete system for you
CTC1 & CTC2 - Digital Heat Trace Temperature Controllers
+ 1 and 2 Circuit Models
+ 40 Amps per Circuit
+ SSR Control
+ 100 - 277 VAC, 50/60 Hz
+ cULus Non Hazardous Areas
+ Soft Start Feature
+ Operating Temperature: -40˚F to 104˚F (-40˚C to 40˚C)
+ Modbus RTU/RS485, RS422, TCP/Ethernet, & BACnet
+ 10" x 8" x 6" (26cm x 21cm x 15cm) NEMA 4X FG Wall Mount Enclosure
+ High Resolution Color TFT Display
+ LED Indication for Power, Load and Alarm per Circuit
+ Front Panel Capacitive Touch Switches
+ PID, On/Off or Manual Control Modes
+ One or Two Sensor Inputs / Circuit – Min, Max & Averaging
+ 2 Circuit Ambient Control from 1 RTD Sensor
+ Full Monitoring and Alarms
+ High / Low Temperature & Current, GFEP & Sensor Failure
+ Programmable Duty Cycle On Sensor Failure
+ AC & DC Alarms
+ Password Protected Security Levels
+ CE, UL, cUL
Request a Quote
Chromalox heat trace solutions offer a safe, reliable and efficient way for freeze protection and process maintenance of pipes, valves, and tanks in the most extreme conditions.