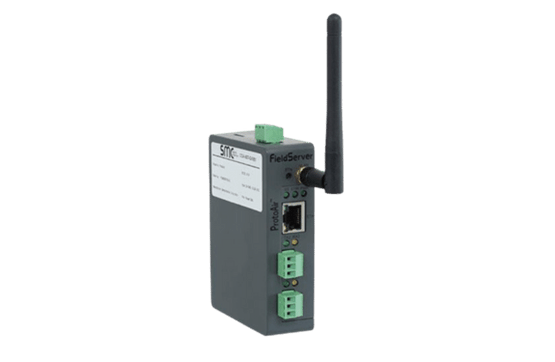 Global Support
Support and spares available around the world
Quick Install
Designed for faster installation to reduce your labor time
About the Product
The Chromalox IIoT Gateway can be installed with any Chromalox IIoT enabled product to provide seamless real time connectivity to the cloud platform. Through the cloud platform users can customize their dashboard for quick access of critical system information or analytics. Asset mapping for global tracking of system location, health, and connection status can be referenced from anywhere to alleviate the unknown of remote monitoring.

Remote Troubleshooting
With approved access, Chromalox service technicians can even perform remote troubleshooting to save time and money. Locations that do not permit cloud based services can still benefit from the Chromalox IIoT gateway through its local LAN or BACnet connectivity options, permitting up to 30 days of on site storage along with one year of web storage for trend analysis. Even 3rd party Cloud based services can be used with the Chromalox IIoT gateway through RESTful API.

IIoT Enabled Products
Chromalox IIoT enabled products stretch across all of our product segments, and feature any device with Ethernet or Modbus capability which includes heat trace panels and controls, standalone temperature and power controls, and our Direct Connect Technology platform. The Chromalox IIoT Gateway is one common device that can be used across your entire Chromalox product portfolio.

Connectivity
The Chromalox IIoT Gateway has a number of different connectivity options which includes hard wired to local network behind firewall, hard wired with internet access to the cloud, WIFI with internet access to cloud, and Cellular access via separately purchased SIM card. Over 140 communication protocols are supported for connection to any BMS or automation protocol, so no matter what connection option is needed, Chromalox has an IIoT Gateway to fit.
ProtoAir IIoT Product Gateway
+ IIoT Gateway Compatible with All Chromalox IIoT Enabled Products
+ Fully Integrated Cloud Platform
+ Remotely Access and Monitor Entire Chromalox Portfolio Anywhere
+ Remote Troubleshooting from Chromalox Service Personnel
+ LAN or BACnet Connectivity Options Available for Local Storage and Control
+ Synchronize with 3rd Party Cloud Platforms with RESTful API
+ SMS or Email Event Notification
+ Customizable Dashboards
+ Asset Mapping for Quick Reference of Location, System Health and Connectivity Status
+ Wired, Wireless and Cellular Capabilities
+ Third-party certifications: UL and CE Certification, RoHS compliance
Request a Quote
Chromalox heat trace solutions offer a safe, reliable and efficient way for freeze protection and process maintenance of pipes, valves, and tanks in the most extreme conditions.