HSRM - Self-Regulating Medium Temperature Cables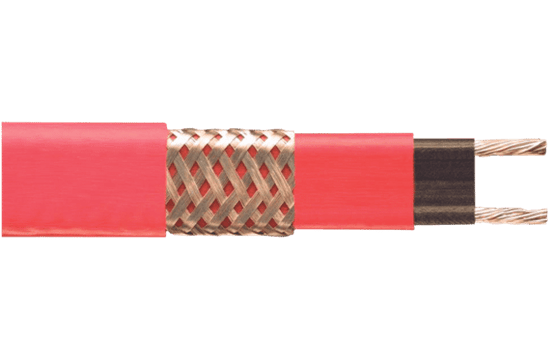 Energy Efficient
Optimized for efficiency gains across your processes
Quick Install
Designed for faster installation to reduce your labor time
Self-Regulating
Over temperature conditions are minimized
About the Product
Chromalox HSRM self-regulating heating cable provides safe, reliable heat tracing for freeze protection of pipes, valves, tanks and similar applications. Constructed of industrial grade 16 AWG buss wire with a tinned copper braid and fluoropolymer overjacket, HSRM ensures operating integrity in Div. 1 hazardous environments. HSRM heating cable has a maximum maintenance temperature rating of 302°F (150°C) and a maximum exposure temperature of 420°F (215°C).

Note: Due to the nature of Division 1 hazardous location applications consultation with a factory representative is required.

WARNING — A ground fault protection device is required by NEC to minimize the danger of fire if the heating cable is damaged or improperly installed. A minimum trip level of 30mA is recommended to minimize nuisance tripping.
HSRM - Self-Regulating Medium Temperature
+ Self- Regulating, Energy Efficient
+ 16 AWG Buss Wire
+ Circuit Lengths to 750 Feet
+ Process Temperature Maintenance to 302°F (150°C)
+ Maximum Continuous Exposure Temp, Power Off, 420°F (215°C)
+ Freeze Protection of Fire Protection System Piping
+ Available in 5, 8, 10, 15, 20 Watts per Foot
+ Available in 120 and 208-277V models
+ Division 1 Hazardous Locations
+ Approximate Size 3/8"W x 1/8"H
+ Min. Bend Radius 1-1/8"
+ For Use on Metal Pipes Only
+ FM and CSA Approved
+ Energy efficient, self-regulating HSRM uses less energy when less heat is required.
+ Easy to install, HSRM can be cut to any length (up to max circuit length) in the field.
+ HSRM features lower installed cost than steam tracing, less maintenance expense and less down time.
+ HSRM can be overlapped without burnout, which simplifies heat tracing of in-line process equipment such as valves, elbows and pumps.
+ Chromalox HL Connection Kits reduce installation time.
Request a Quote
Chromalox heat trace solutions offer a safe, reliable and efficient way for freeze protection and process maintenance of pipes, valves, and tanks in the most extreme conditions.