SRM/E - Self-Regulating Medium Temperature Cables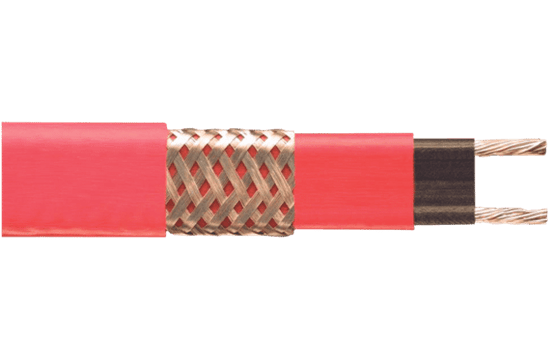 Energy Efficient
Optimized for efficiency gains across your processes
Quick Install
Designed for faster installation to reduce your labor time
Self-Regulating
Over temperature conditions are minimized
About the Product
Chromalox SRM/E self-regulating heating cable provides safe, reliable heat tracing for process temperature maintenance and freeze protection of pipes, valves, tanks and similar applications. Constructed of industrial grade 16 AWG buss wire with metal braid, SRM/E ensures operating integrity in most hostile industrial environments. The 420°F (215°C) maximum exposure temperature rating allows steam cleaning of process equipment with up to 300 psig steam.

WARNING — A ground fault protection device is required by NEC to minimize the danger of fire if the heating cable is damaged or improperly installed. A minimum trip level of 30mA is recommended to minimize nuisance tripping.



SRM/E - Self-Regulating Medium Temperature
+ Self-Regulating, Energy Efficient
+ 16 AWG Buss Wire
+ Circuit Lengths to 750 Feet
+ Process Temperature Maintenance to 302°F (150°C)
+ Maximum Continuous Exposure Temperature, Power Off, 420°F (215°C)
+ Industrial Process Maintenance Applications
+ Industrial Freeze Protection Applications
+ Steam Cleanable on Process Equipment Up to 300 PSIG
+ 5, 8, 10, 15 and 20 W/Ft.
+ 120 and 208 - 277 Volt From Stock
+ Approximate Size .47 in. W x .20 in. H
+ Minimum Bend Radius 1-1/8 in.
+ For Use on Metallic Pipes Only
+ Factory Mutual (FM) Approved, UL Listed, and CSA certified for ordinary areas.
+ ATEX, IECEx, FM, and CSA Approved for hazardous (classified) areas when used with U Series, HL, DL, and EL accessories.
+ Energy efficient, self-regulating SRM/E uses less energy when less heat is required.
+ Easy to install, SRM/E can be cut to any length (up to max. circuit length) in the field.
+ Field splices can be performed easily in minutes with no scrap or wasted cold sections.
+ With lower installed cost than steam tracing, SRM/E features less maintenance expense and downtime.
+ SRM/E can be overlapped without burnout, which simplifies heat tracing of in-line process equipment such as valves, elbows and pumps.
+ Because SRM/E is self-regulating, overtemperature conditions are minimized.
+ Chromalox termination, splice, tee and end seal kits reduce installation time.
Applications
+ Freeze Protection
+ Freeze Protection, High Exposure Temperature
+ Process Maintenance, Low Temperature
+ Process Maintenance, High Temperature

Features of SRM/E Cable



Max. Maintenance Temp. (°F)
302
Max. Exposure Temp. (°F) Power Off
420
Max. W/Ft.
20
Max. Circuit Length (Ft.)
750
Buss Wire Size
16
Voltages
120, 208-277
Hazardous Ratings
Yes
Usable on Plastic Pipe
No
Cut-to-Length in Field
Yes
Field Splicable
Yes
Can be Overlapped
Yes
Output Varies with Temp.
No
Varies Output Along Length
No
Accessories
DL/EL/U
Monitor Wire Available
Contact Factory
SRM/E Corrosion Selection Guide

Moisture
C, CT
Aqueous Solutions of Inorganic Compounds
CT
Liquids Organic Chemicals Acids or Bases
CT
Acids or Bases
CT
C - Tin-Plated copper metallic braid for additional protection and ground path
CT - Fluoropolymer corrosion resistant overjacket over braid for hostile/corrosive environments
CR- TPR overjacket over braid for protection against certain inorganic chemical solutions

This is a recommendation guide. Chromalox cannot warrant any Electric Heat Trace against failure by sheath degradation if such failure is the result of operating conditions beyond the control of the heater manufacturer. It is the responsibility of the purchaser to make the ultimate choice of sheath material based on knowledge of the chemical composition of the corrosive solution, character of materials entering the solution, and controls which maintains the process.
Request a Quote
Chromalox heat trace solutions offer a safe, reliable and efficient way for freeze protection and process maintenance of pipes, valves, and tanks in the most extreme conditions.