Steam, Air & Gas Circulation Heaters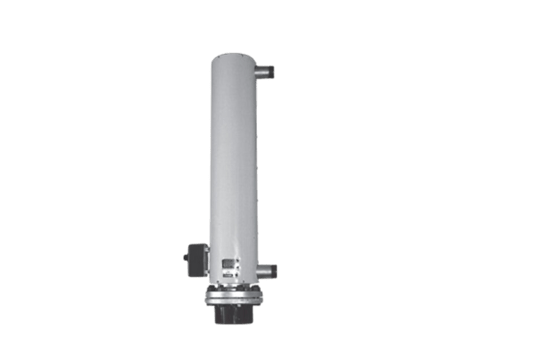 Energy Efficient
Optimized for efficiency gains across your processes
Quick Install
Designed for faster installation to reduce your labor time
Steam Air & Gas Circulation Heaters
GCHCIS - Small Capacity/Low Flow Gas Applications
Designed to efficiently heat gases, particularly at low-flow rates and relatively high temperatures (Outlet temperatures to 600°F)."

Terminal Enclosure — Available with E1 General Purpose or E2 Moisture Resistant/ Explosion Proof.

Cartridge Heater Element — INCOLOY® sheath and spiral wound baffle for efficient heat transfer.

Vessel — Stainless Steel (304) construction of all wetted parts.

Thermal Insulation — High temperature pipe insulation inside protective outer jacket.

Process Control — Accurate process control using a Type J thermocouple located in the heater outlet.

High Limit Sensor — Integral overtemperature protection using a Type K thermocouple located inside the cartridge heating element sheath.

Installation — Compact rugged design permits easy installation.
GCHI/GCHIB/GCHIS/GCHISB - Steam/Air/Gas
Chromalox GCH circulation heaters provide a cost effective means for heating steam, air, and common industrial gases such as Argon, Helium and Nitrogen as well as gaseous mixtures for a wide variety of industrial processes."

Terminal Enclosures — E1 General Purpose. Moisture Resistant/Explosion Proof E2 or Moisture Resistant E4 Enclosures are available.

Elements — Sturdy 0.475" Dia. Stainless Steel or INCOLOY® sheath elements provide superior strength and rigidity. Chromalox elements utilize high quality resistance wire for coil construction. The coil is surrounded with high purity magnesium oxide which is compacted to a dense solid to ensure high thermal conductivity and dielectric strength.

Flanges — Carbon Steel or Type 304 Stainless Steel flanges are standard on 3" and larger circulation heaters. Flange dimensions conform to ANSI B16.5 standards.

Vessels — Pipe body and nozzles are Carbon Steel or type 304 ASTM A312 ERW Stainless Steel pipe. The end disks are Carbon Steel or type 304 ASTM A240 Stainless Steel plate. Provided with thermal insulation and painted sheet metal jacket.

Baffle Assemblies — Internal baffle assemblies are provided for model GCHISB-18 heaters to increase the velocity of the air, gas or steam as it passes through the vessel. Increasing the velocity of the gas helps reduce the temperature of the element sheaths and the vessel walls in critical applications.

Wiring — Wiring terminals are spaced to provide proper arcing and creepage clearances. Termination insulators provide electrical isolation between the terminals and the grounded metal sheath to enhance personnel safety and equipment service life. Heavy duty jumper straps and other terminal parts assure tight connections and an extra margin of current carrying capacity.

Controls — Mechanical AR thermostats are found on some models. These thermostats are suitable for most applications. Explosion-resistant and liquid- tight thermostats are provided on E2 and E4 units, respectively. Individual product pages list other types of thermostats and controls available for each heater. For heaters listed without controls, refer to the Overview on Mechanical and Electrical Control Options in this section.

Precision Temperature Control and Control Panels — For larger kW heaters and precise control of gas temperatures in high temperature applications, Chromalox recommends the use of thermocouple sensors, electronic PID temperature controls and SCR power panels for circulation heater applications. The use of electronic and SCR controls will minimize overshoot and reduce the possibility of heater damage from overtemperature operation. Integral or remote mounted control panels with electronic controls and solid state (SCR) or contactor power controllers can be provided using virtually any combination of control devices. Consult the Controls section for details.
Request a Quote
From high temperature gas heating to superheated steam and super-critical water processing, Chromalox is the leading partner for all process heating solutions.