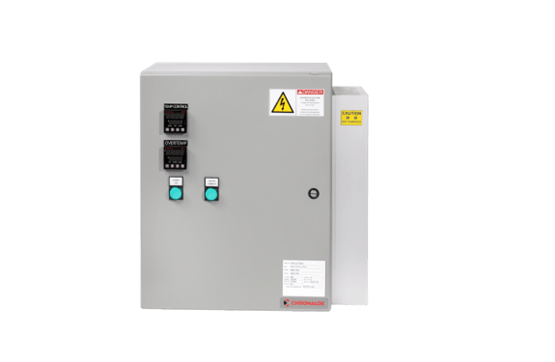 Reduce Costs
Technology designed to reduce total cost of ownership
Global Support
Support and spares available around the world
Quick Install
Designed for faster installation to reduce your labor time
Power Control Assemblies
Chromalox models PCA (Power Control Assembly) & PCS (Power Control System) are specifically designed for Chromalox heating equipment to provide proper power and temperature control. Prortional power control is available for applications like gas or inline heating. Contactor power control is also available for more static applications like water freeze protection or tank heating. Units come completely assembled with the selected power control and a variety of options to choose from such as integrated temperature controllers, overtemperature controllers, disconnects, outdoor locations packages, and many others features.
If your application only requires up to 75A at 480V 3PH consider our Pick and Ship Offering!
Specifications
Agency approvals
• North America:
-cULus® 508A Listed (non-hazardous area)
-NNNY Class I, Div 2, Groups A/B/C/D (hazardous areas)
• Europe: Self-declared CE to EN 61439 Standards

Ratings
• Up to 1200A
• 110-600V (Single or Three Phase)
• 5kA to 100kA SCCR

Enclosures
• Powder Coated Steel (NEMA 4/12, IP66/52)
• 304SS (NEMA4X, IP66)

Environment
• Ambient of 0°C / 32°F to 40°C / 104°F (without Outdoor Location Package)
• Ambient of -18°C / 0°F to 40°C / 104°F (with Outdoor Location Package)

Power Controllers (Proportional Control Option)
• MaxPac/ACPC SCR 2 leg or 3 leg

Process Controllers
• Door Mount DIN 4040/6040, DIN Rail 1020, or none (customer supplied 3-32VDC or 4-20mA)
• Overtemp Door Mount DIN 6050, DIN Rail 1030, or none

Safety Shutdowns
• Additional Shutdown Connections are provided jumpered, and can be reconfigured to accept a user relay signal for heater enable/disable operation
• Integral Disconnect can be added for localized shutdown of incoming power
• External E-Stop Button to disengage the heater (Local Interface Package)
• Optional Ground Fault Trip Package

Optional Cooling
• Fan(s)
• Air conditioner

Pilot Lights
• Overtemp Alarm
• Process Temp Alarm (Optional)
• Power On
• Common Trip (Optional)
• Common Alarm (Optional)
• Enclosure Temperature Alarm (Optional)
• Interlock Alarm (Optional)

Request a Quote
From high temperature gas heating to superheated steam and super-critical water processing, Chromalox is the leading partner for all process heating solutions.