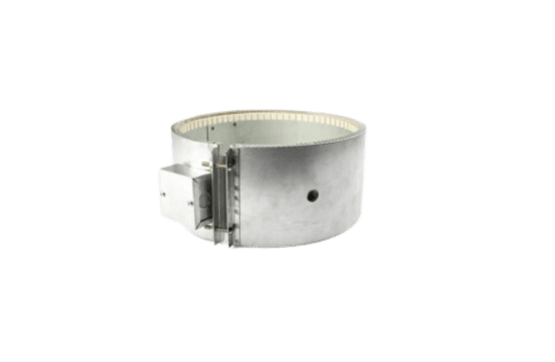 Durable Design
Long service life in hostile environments
Energy Efficient
Optimized for efficiency gains across your processes
Ceramic Band Heaters
Ceramic Band Heaters afford customers a means to heat large cylinders from intermediate to high temperatures of 1600°F (870°C) without concern of failures due to "Hot-Spotting" that conventional bands heaters are susceptible to when used on large diameter cylinders. Ceramic Bands integrate a layer of thermal insulation that reduces ambient heat loss and reduces power consumption.
Type CB industrial heaters are best suited for applications up to 1600°F Band operating temperatures, and provide even industrial heating on injection and extrusion molding barrels. The ceramic segments and high temperature resistance wires are capable of highly efficient heat transfer. Ceramic fiber insulation, 1/4" thickness, provides an additional 25% energy savings over non-insulated types. Ceramic band heaters also contribute a radiant heating effect to the object being heated. CB band heaters can be constructed in greater widths, allowing fewer heaters per zone, wider heating patterns, and simplified wiring.
Request a Quote
Every heating challenge is unique. Chromalox offers the industry's most comprehensive offering of component heaters and controls. Our experienced engineers will work with you to provide a complete thermal solution for your unique application.