MTB - Mighty Tuff™ Band Heaters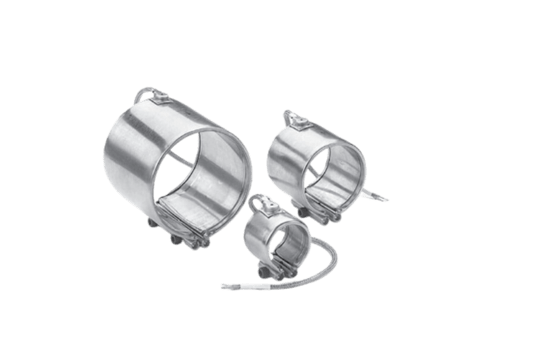 Durable Design
Long service life in hostile environments
Global Support
Support and spares available around the world
Mineral Insulated Band Heaters
Mighty Tuff™ Mineral Insulated Band Heaters provide high watt density and high temperature capabilities up to 1200°F (650°C) for challenging industrial applications requiring fast start-ups and higher operating temperatures. Mighty Tuff™ heaters are widely used on plastics machinery for processing high temperature engineered grade resins.
Rugged construction along with high temperature and high watt density capabilities allow the Mighty-Tuff Band Heater to surpass all other band heaters in providing the ever increasing temperatures required for processing today's high tech materials. The advanced design and thin profile allow the quick transfer of heat from the element to the sheath for efficient operation to 1200°F sheath temperature. Watt densities as high as 100 wpsi on small diameters are possible. A stainless steel sheath encases a compressed mineral refractory material which surrounds a helical or sinuated resistance element. The Mighty-Tuff can stand up to shock, vibration and many contaminants long after standard band heaters have failed. In normal use, or in the most difficult application, the Mighty-Tuff will improve machine productivity by improving band heater performance.
Request a Quote
Every heating challenge is unique. Chromalox offers the industry's most comprehensive offering of component heaters and controls. Our experienced engineers will work with you to provide a complete thermal solution for your unique application.