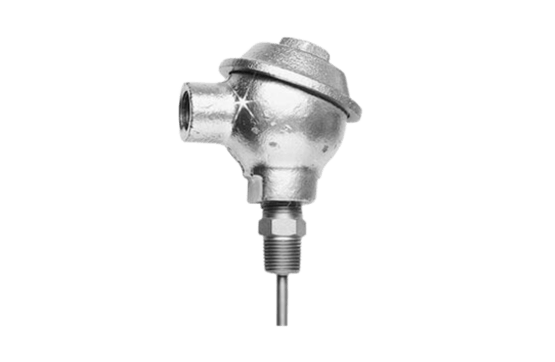 Durable Design
Long service life in hostile environments
Global Support
Support and spares available around the world
RTD Sensors
Industrial RTDs (Resistance temperature detectors) are provided in a variety of styles and materials to meet rugged industrial applications. A wide selection of sensor types, connection heads, leadwire termination options and accessories are available.

BT & CF -
Bayonet & Compression Probes
Bayonet and Compression RTDs.

PR-TD - Probes with Connection Head
Precision 100 Ohm Platinum RTD Element
• Rugged Design Offers Variety of Protection Heads with 1/2" NPT Mounting Threads
• 304 SS Sheath
• Spring Loaded Styles Available
• Available with PFA Teflon® Coating
• 6, 9, 12, 18 and 24" Lengths

RBF - Heat Trace or Pipe Sensor
For measuring the surface temperature of process piping that is carrying products whose temperatures must be controlled to prevent freeze-up, or to maintain a viscosity level so that the inner medium will flow. The RTD Sensor Element is made up with a 316SS sheath, and with a stainless steel mounting pad. Cold legs are available in customer specified lengths to accommodate pipe insulation
thickness.

RTD800 - Precision RTD Probe
The RTD-805/C has its element mounted in an open-ended stainless steel housing. The encapsulated sensor design on the RTD-830/C provides low cost with a fast response and is designed for mounting on flat surfaces. A stainless steel housing with 1/4" hex head and a #8-32 NC-2A threaded body encapsulates the element on the RTD-850/C. This unit is designed for applications requiring vibration and shock resistance. The RTD-860/C has a closed-end stainless steel tube with the sensor mounted in the tip, the mounting plate includes two holes for easy installation.

SRTD - Surface Mount RTD Series
Surface Mount (SA1)
• Response Time in Milliseconds
• Rated to 500oF (260oC) Long Term
• 36" Teflon® Insulated 3-Wire Leads (SRTD)
Technical Resources
BT & CF Bayonet & Compression RTD
PR - RTD Probes with Connection Head
RBF - Heat Trace or Pipe Sensor
SRTD - Surface Mount RTD Series & RTD800 - Precision RTD Probe
Request a Quote
Every heating challenge is unique. Chromalox offers the industry's most comprehensive offering of component heaters and controls. Our experienced engineers will work with you to provide a complete thermal solution for your unique application.