ChromaMelt-2R - Snow Sensor & Controllers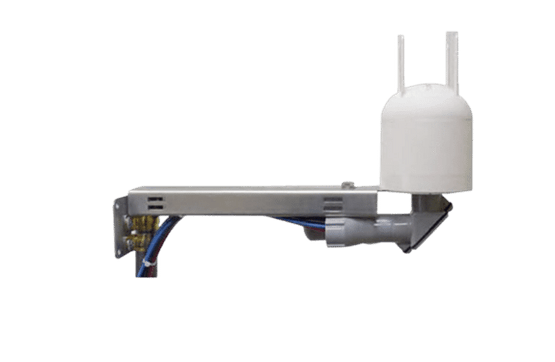 Quick Install
Designed for faster installation to reduce your labor time
About the Product
The ChromaMelt-2R is a "Plug and Play" controller/ sensor for snow melting applications. When the temperature drops below the adjustable setpoint and moisure is present, it energizes the heating elements.

The Technician mode allows installers or technicians to adjust the parameters for customized installations using the electronic controller installed in the front panel. The adjustable Hold-On timer, keeps the outputs to the heaters active to ensure complete freeze protection.

The Hold-On (Time delay) is adjustable in the from 0 to 99 hours. The 4 vertical spikes prevent birds from nesting on top of the ChromaMelt-2R and blocking the sensing grid.
ChromaMelt-2R - Snow Sensor & Controller
+ Load Switching (2 X 24A Relays)
+ Adjustable Temperature Settings (C & F)
+ Variable Delay Time (Hold ON and OFF Time)
+ User Friendly Programming and Setting
+ Adjustment Using Remote Control with Large LCD Display
+ Adjustable Cycle Time between Zones while Staggering
+ 2 Zones of Control - Operating Together or Staggering
+ Easy and Simple 6 Wire installation
+ Logical and Remote Access for Installers During Set-up, Commissioning & Service
+ Non Obtrusive Adjustable Snow Sensor Wall Bracket
+ Automatic/Manual/Off Mode Selection by Switch or by Remote Control
+ 4 Vertical Spikes to Prevent Birds Nesting
+ RoHS
+ ETL Certification (US and Canada)
Accessories
CS-MB Mounting Bracket
CS-RC Remote control, operations and technical settings interface
CS-IR Indoor control interface unit
CS-EC 30' (10m) Extension Cable for SC-IR
Request a Quote
Chromalox heat trace solutions offer a safe, reliable and efficient way for freeze protection and process maintenance of pipes, valves, and tanks in the most extreme conditions.