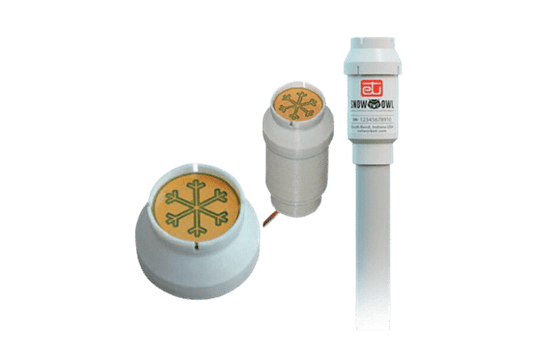 Energy Efficient
Optimized for efficiency gains across your processes
Quick Install
Designed for faster installation to reduce your labor time
About the Product
The Snow Owl Snow Sensor detects falling or blowing precipitation as snow at temperatures below 38°F (3.3°C). The Snow Owl provides the industry's most versatile and cost effective automatic snow melting control when used with any APS or EUR series control panel, old or new.

The Snow Owl turns off during dry or warm weather to save energy costs. Temperature and time parameters are preset for optimum system performance.

Typical applications include controlling snow melting systems or sidewalks, doorways, stairs, loading docks, ramps for the physically challenged and parking garages. Easy installation is another key Snow Owl feature. Low voltage operation, up to 2,000' (609.6m) separation from the control panel, mast or roof mounting, and noncritical extension wiring are just a few of the features making this possible.
Snow Owl Snow Sensor
+ Minimum Snow Melting Cost
+ No Supervision Required
+ Reliable Snow Sensing
+ Senses both Temperature and Precipitation
+ Input Power: 24VAC 50/60HZ, 24VDC or 24V full wave rectified AC/ pulsed DC 0.2A max
+ Application Flexibility
+ Mounts on 3/4" PVC Conduit for Easy Installation
+ Three Wire Connection (2 for Power, 1 for Relay)
+ Hold on Timer set to 1 Minute
+ Relay Contacts: 2A max, 30V
+ Made with UV-Tolerant and Corrosion Resistant Materials for Long Life
+ Storage Temperature -40°F (40°C) to 185°F (85°C)
Request a Quote
Chromalox heat trace solutions offer a safe, reliable and efficient way for freeze protection and process maintenance of pipes, valves, and tanks in the most extreme conditions.