TXR - NEMA 7 Remote Mount Freeze Protection Thermostats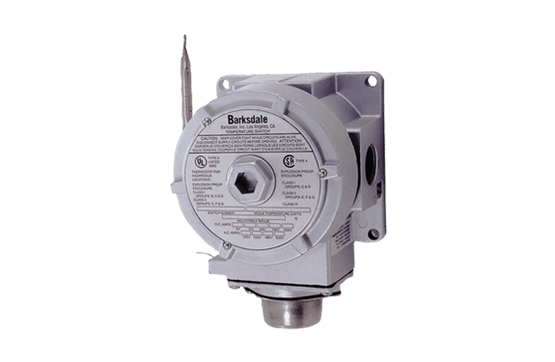 Low Maintenance
Rugged and durable design means intervention is rarely required

High Performance
Maximum Exposure Temp, Power Off, 1200°F (648° C)
About the Product
TXR: NEMA 7 Line or Pipe Sensing

Maintaining proper viscosity and flow is critical in heat trace or freeze protection applications. The THR remote mount thermostats utilize a stainless steel bulb and capillary design to accurately sense temperature at key points along a pipe. The THL direct mount thermostats feature liquid-filled thermal assemblies and sense air temperatures from 15 to 140˚F. Both models are epoxy coated to seal from moisture and contaminants in compliance with NEMA 4X requirements. NEMA 7 stats TXR and TXL are designed for Class I, Division I and 2, Groups B, C, D, and Class 2, Division I and 2, Group E, F, G.

WARNING: Hazard of Fire. These devices function as temperature controls only. Because they do not fail-safe, an approved temperature and/or pressure safety control must be used for safe operation.
TXR - Heat Trace / Freeze Protection Thermostats
+ Remote Mount for Heat Trace (Bulb & Capillary)
+ 22 Amp Resistive Switch
+ Single and Dual Output Models
+ ± 1% Setpoint Repeatability
+ Fast Response for Protection of Valves and Piping
+ NEMA 4X, 7 and 9 Enclosures
+ Third-party certifications: UL Listed, CSA, ATEX, FM
Request a Quote
Chromalox heat trace solutions offer a safe, reliable and efficient way for freeze protection and process maintenance of pipes, valves, and tanks in the most extreme conditions.