Rectangular Slide-in Duct Heaters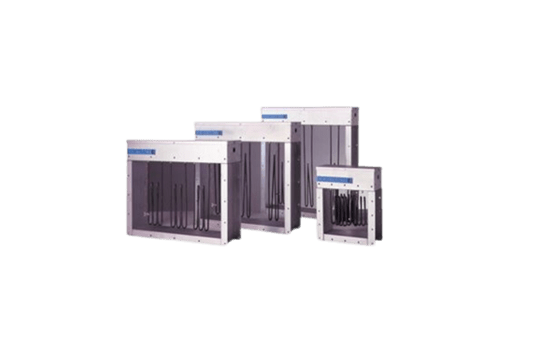 Durable Design
Long service life in hostile environments
Global Support
Support and spares available around the world
Rectangular Slide in Duct Heaters
Chromalox manufactures several different types of duct heaters for a multitude of applications. We offer self-contained designs that carry 3rd party listings and component type designs typically used for OEM drying and heating processes. If you can't find the exact design you're looking for, our application engineering group can work with you to develop a custom configuration.

Contract E & ES Metric Rectangular Duct Heater
Contract E and ES heaters are designed for mounting in standard and custom air ducts. Available in a multitude of power ratings and sizes, Contract E heaters can be designed for any duct heating application. The alloy coated steel frame supports standard 321 stainless steel elements, minimizing corrosion from moisture and other contaminates. Standard models are fitted with both automatic and manual reset temperature cutouts to prevent elements from overheating in low airflow situations. The terminal enclosure protects the pre-bussed element terminations and is rated to IP42 ingresss protection.

Built in controls are also available with Contract ES models. Controls can be configured with on/off contactor power control or proportional triac power control. Control options also include built in air pressure switch to prevent operation in low/no air flow. Temperature controllers can precisely measure either ambient or duct temperature.

CAB & CABB Low Temperature Air Duct Heaters
Simple Duct Transition Sections may be used to adapt standard heater sizes to various duct sizes to increase air velocities for better heat transfer, lower sheath temperature and longer element life.

Field Wiring Terminals — Heavy duty 3/8" diameter bolts of either brass (iron sheath units) or Stainless Steel (chrome steel sheath units) with necessary hardware are provided for field wiring connections. Terminals are located on the side for CAB units and on the bottom for CABB units, and should be on the outside of ducting.

Fins of aluminized steel are provided to improve heat transfer to the air.

Elements are individually replaceable.

Terminal Cover Option is available to prevent accidental contact with live electrical terminals (PCN 269720), one (1) required per circuit.

MONEL® Sheath and MONEL® Fins are available for humid conditions. Model TDH heaters, using Fintube® elements are also available. Contact your Local Chromalox Sales office.
Request a Quote
From high temperature gas heating to superheated steam and super-critical water processing, Chromalox is the leading partner for all process heating solutions.