Heat Trace Control Skid Systems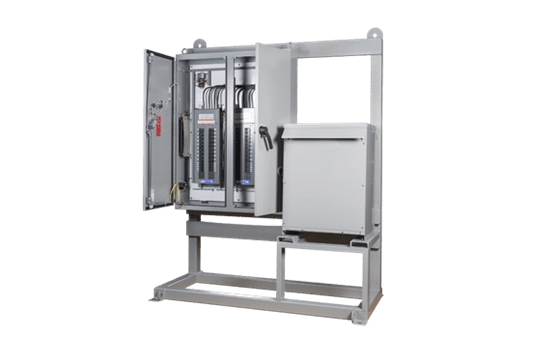 Durable Design
Long service life in hostile environments
Quick Install
Designed for faster installation to reduce your labor time
About the Product
Chromalox can integrate intelliTRACE and weatherTRACE panels with power distribution panels and transformers on a steel frame to provide a plug and play solution for heat trace system control. Custom configurations with many options for footprint and included equipment are available.
Chromalox can provide customized, integrated control, monitoring and distribution skids for All of your heat trace applications. The skids integrate control and monitoring panels like the ITLS / ITAS series with a power distribution panel, and transformer on a rugged steel frame. These skid systems are prewired, designed to minimize required space and provide site contractors with plug and play installation. Simply land supply power wiring on the transformer and bring load wiring from the heat trace junction boxes to the internal heat trace power terminal strip. Skids can be customized to your specifications for area class, circuit count, footprint, and type of equipment included. These systems are an ideal front end to integrate with Chromalox enterprise wide supervisory control software.
Custom Packaged Process Skids
Chromalox leverages its experience from decades of custom process heater engineering into full process control with packaged systems. Designed as plug-and-play units, these packaged skids manage temperature, pressure, flow, and filtration for virtually every application and industry, particularly in the Energy markets. No company has assisted end users with more process solutions than us. Our process skids operate under the most extreme process conditions, as well as in the most extreme and hazardous environments
Markets Served
-

Custom Chromalox process heaters operate in critical markets such as:

+ Oil and Gas, both on- and off-shore
+ Petrochemical and Refining
+ Power Generation
+ Industrial Gas
+ Textiles
+ Pharmaceutical
+ Industrial Process
Common Applications include:
+ Oil fowarding skids
+ Duplex coalescer skids
+ Fuel gas conditioning skids
+ Lube oil skids
+ Wash water skids
+ Compressor skids
+ Water injection skids
Technical Resources
Process Capabilities Brochure
Request a Quote
Chromalox heat trace solutions offer a safe, reliable and efficient way for freeze protection and process maintenance of pipes, valves, and tanks in the most extreme conditions.