IntelliTrace - Supervisory Heat Trace Control Software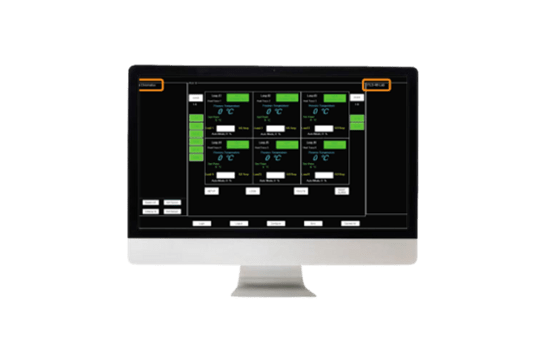 Global Support
Support and spares available around the world
Quick Install
Designed for faster installation to reduce your labor time
About the Product
Wireless is rapidly becoming the preferred sensing technology of choice in many commercial and industrial systems. Wireless sensing can greatly reduce installation costs and more easily solve geographically and structurally challenging sensing applications. Chromalox now provides fully integrated Wireless Temperature Sensing Solutions for Heat Trace applications in ordinary and hazardous areas. Whether you are designing a new heat trace system, expanding an existing one or need to optimize your process, and you are considering wireless temperature sensing, the Chromalox IntelliTrace ITLS and ITAS heat trace control panels are an ideal choice.
IntelliTrace - Wireless Temperature Sensing
+ Seamlessly Integrates with ITLS & ITAS Heat Trace Control Systems
+ Line or Ambient Sensing
+ Ordinary and Hazardous Locations
+ Ideal for New Installations, Expansions & System Upgrades
+ Local or Remote Locations
+ Added Redundancy & Improved Safety
+ Process Temperature Control Optimization
+ System Testing Flexibility
+ Industry Leading Components
+ 360° Pipe or Structure Mounting



System
The Wireless Temperature Sensing components of the Chromalox Heat Trace system include our IntelliTrace ITLS or ITAS Control Panel, which is configured for wireless sensing, and a specified industrial Wireless Transmitter, that is paired with an appropriate temperature sensor. We vigorously field-tested and validated the highest rated and most recognized industrial components available. Full wireless temperature sensing installation details and considerations are found in our ITLS and ITAS Installation Manual, PK497.


Control Panel
When the wireless temperature sensing feature is selected, our IntelliTrace Control Panel is internally equipped with an industrial-duty WirelessHART™ certified wireless gateway, antenna and the necessary communication accessories. The panel firmware facilitates wired and wireless temperature sensor inputs seamlessly. Our large 10" (250 mm) touchscreen computer HMI distinguishes wireless circuits from wired ones. Each wireless circuit has its own sensor battery life meter. This provides three levels of remaining battery life so that you may properly plan service before it is needed.


Wireless Transmitter
Chromalox has chosen the Rosemount® 248 Wireless Temperature Transmitter, which is an industry standard in the industrial wireless community. This transmitter is WirelessHART™ certified and it may be pipe or structure mounted. The 248 Transmitter is offered in either an aluminum or polymer housing and is available with or without the universal mounting bracket.


Temperature Sensor
We have standardized on an RTD type temperature sensor. See the heat trace temperature sensor table for several heat trace sensor choices.
Request a Quote
Chromalox heat trace solutions offer a safe, reliable and efficient way for freeze protection and process maintenance of pipes, valves, and tanks in the most extreme conditions.