ITAS/ITLS - Ambient & Line Sensing Control Panels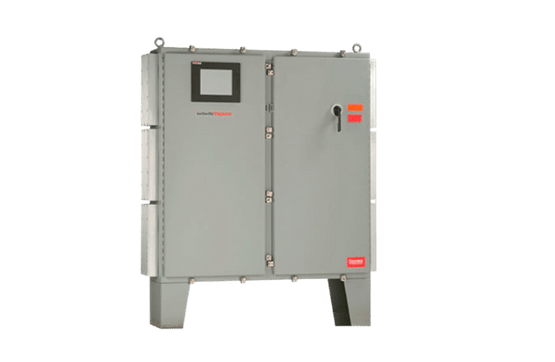 Reduce Costs
Technology designed to reduce total cost of ownership
Global Support
Support and spares available around the world
About the Product
Wireless is rapidly becoming the preferred sensing technology of choice in many commercial and industrial systems. Wireless sensing can greatly reduce installation costs and more easily solve geographically and structurally challenging sensing applications. Chromalox now provides fully integrated Wireless Temperature Sensing Solutions for Heat Trace applications in ordinary and hazardous areas. Whether you are designing a new heat trace system, expanding an existing one or need to optimize your process, and you are considering wireless temperature sensing, the Chromalox IntelliTrace ITLS and ITAS heat trace control panels are an ideal choice.
ITASC1D2 2-48 - Ambient Sensing Heat Tracing Control Panel Class I, Div. 2, 2-72 Loops
+ Class I, Division 2 Hazardous Environments - Groups A,B,C,D
+ 10" (25.4 cm) Touch Screen HMI (Not included with extension panel)
+ 40 Amps/Loop @ 100 – 600 VAC
+ SCR Control – PID, On/Off or Manual Control
+ 2 Loops to 72 Loops
+ NEMA 4 or NEMA 4X Enclosure
+ User Selectable Soft Start Feature
+ Customizable Sensor Mapping
+ Full Communications
+ Enhanced Data Logging
+ Full Alarm & Monitoring Capabilities on GFEP, Temperature, Sensor, Current Load & Communications
+ UL, cUL Listed
+ Optional CE Certification
+ Optional extension panels
Soft Start Feature


Certain heating cables exhibit inherent current inrush in colder temperatures. This inrush can cause nuisance breaker tripping. To limit inrush current on the overall system, a proprietary Soft Start algorithm is applied during system start-up. This will ONLY occur while the operation mode is set to AUTO. After the Soft Start program completes its cycle, the Control Mode of the system will either be PID or ON/OFF Control Mode, depending what was selected by the user. The default setting of the Soft Start Feature for each circuit is "enabled". However, the Soft Start Feature may be disabled if so desired by the owner. The owner has the option to independently manage the Soft Start Feature on each circuit.


Auto Cycle Feature


During prolonged down time periods, typically during the summer months, it advisable to intermittently exercise the system circuits. This exercising of the loops is accomplished via the Autocycle feature. On a sequential circuit basis, the Autocycle feature periodically monitors system performance between 1-999 hours. This provides a certain level of predictive maintenance of the system as Faults (Alarms) will present themselves accordingly. Problem areas may be addressed during non-essential operating periods. The owner has the option to engage or disengage the Autocycle feature at any time.


Sensor Mapping


The ITLS & ITLSC1D2 Models provide the owner with customizable Sensor Mapping. This becomes a very powerful and desirable feature when the owner needs added flexibility in controlling the circuit outputs beyond the standard single sensor input.
Request a Quote
Chromalox heat trace solutions offer a safe, reliable and efficient way for freeze protection and process maintenance of pipes, valves, and tanks in the most extreme conditions.