RTAS-EP - Ambient Sensing Thermostats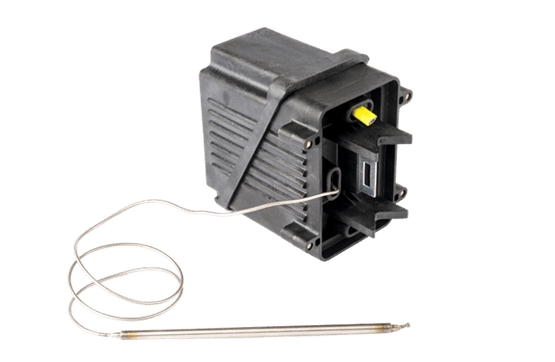 Durable Design
Long service life in hostile environments

High Performance
Maximum Exposure Temp, Power Off, 1200°F (648° C)
About the Product
RTAS is an ambient-sensing thermostat which is generally used for freeze protection in ordinary (non-hazardous) areas. The thermostat is mounted through the end of the oblique sided enclosure lid. In fact, because there is so much room in this model, multiple heating cables can be terminated. The stainless steel sheathed, inverted bellows probe provides good sensitivity, resulting in more accurate control.

RTAS-EP is a modified version of the RTAS which utilizes a hermetically sealed switch. Since this switch has no arcing contacts, it can be used in Division 2 Hazardous Areas.
RTAS & RTAS-EP - Ambient Sensing Integrated Temperature Controls
+ Line or Ambient Sensing Thermostats
+ ElectroMechanical Control
+ Rugged, Corrosion Resistant Construction
+ NEMA 4X Design with Corrosion and Weather Resistant Ryton® Construction
+ Ambient Sensing:
- 120 - 480 VAC
- 0 - 225°F Temp. Rating
- 9/16" OD x 4" SS Probe
+ - Ordinary & Hazardous Area (Div. 2) Approvals
+ Bulb & Capillary:
- 120 - 480 VAC
- 0 - 400°F Setpoint Range
- 1/4" OD x 7-1/4" SS Bulb and 3 Ft. Capillary
- Ordinary & Hazardous Area (Div. 2) Approvals
+ UL, CSA, and FM Approved
Request a Quote
Chromalox heat trace solutions offer a safe, reliable and efficient way for freeze protection and process maintenance of pipes, valves, and tanks in the most extreme conditions.