RTBC-EP - Line Sensing Thermostats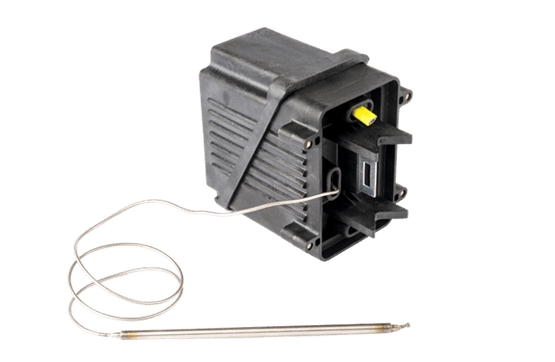 Durable Design
Long service life in hostile environments
Low Maintenance
Rugged and durable design means intervention is rarely required
About the Product
RTBC is a line-sensing thermostat which is generally used for process temperature maintenance applications in ordinary (nonhazardous) areas. The thermostat is mounted within the enclosure and the capillary is brought out through one of the openings in the bottom of the box. This design provides extra protection for the capillary, especially when the control is mounted on a pipe, for heat tracing applications. The three foot long stainless steel capillary provides good flexibility in mounting locations.

RTBC-EP is a modified version of the RTBC which utilizes a hermetically sealed switch. Since this switch has no arcing contacts it can be used in Division 2 Hazardous Areas.
RTBC & RTBC-EP - Bulb & Capillary Line or Ambient Sensing Thermostats
+ ElectroMechanical Control
+ Rugged, Corrosion Resistant Construction
+ NEMA 4X Design with Corrosion and Weather Resistant Ryton® Construction
+ Ambient Sensing:
- 120 - 480 VAC
- 0 - 225°F Temp. Rating
- 9/16" OD x 4" SS Probe
- Ordinary & Hazardous Area (Div. 2) Approvals
+ Bulb & Capillary:
- 120 - 480 VAC
- 0 - 400°F Setpoint Range
- 1/4" OD x 7-1/4" SS Bulb and 3 Ft. Capillary
- Ordinary & Hazardous Area (Div. 2) Approvals
+ UL, CSA, and FM Approved
Request a Quote
Chromalox heat trace solutions offer a safe, reliable and efficient way for freeze protection and process maintenance of pipes, valves, and tanks in the most extreme conditions.